Watercolor with Mary O Smith
See a short video from workshop:
2-Days Workshop
August 12-13, 2022, 10:00am - 4:00pm

---
We all want to paint outside but in August, just too hot. Let's get ready and inspired to paint inside with a few tips and tools of the watercolor medium. Hope to inspire each student to plan for success for each painting. We will talk about the importance of the process you choose for your painting. I will demo in the mornings and break for short lunch and get you painting from your photo reference or select one of mine.
Rock, Paper, Scissors game is to watercolor as: Plan, Darks, and Lights.
A little planning goes a long way to help make a successful painting in or out of the studio. So Let's Mix and Mingle.
Mornings - Demo and discussion, quick lunch break, students set up and plan from their reference or can selection one of mine. Individual help all afternoon and quick group discussion at 3:30pm.
About the Artist
---
Mary O. Smith was born in 1960 and raised in Louisiana. She studied in fine arts and design. She graduated from Louisiana State University in 1982 with a bachelor of Design. After college, she worked as an interior designer for an architectural firm in Valdosta, Georgia and used her drawings skills for their architectural and interior renderings as well.
In 1996, Mary o. developed her interest and love for watercolor and began to study under wonderful artists such as Tony Van Hasselet, Judi Wagner, Judi Betts, and Roberta Carter Clark. Intrigued with the loose and fluid qualities of the medium, she incorporated these qualities in her own loose and expressive style. In 1997-2002, she opened her own gallery/studio in St. Marys, Georgia. Her studio is now in Steinhatchee, Florida. Her work has been represented in galleries in the Southeast. She is a member of Plein Air Painters of the Southeast, Signature member of the Southern Watercolor Society, Georgia Watercolor Society and the Tallahassee Watercolor Society and a board member of Pines and Palms out of Thomasville, Ga.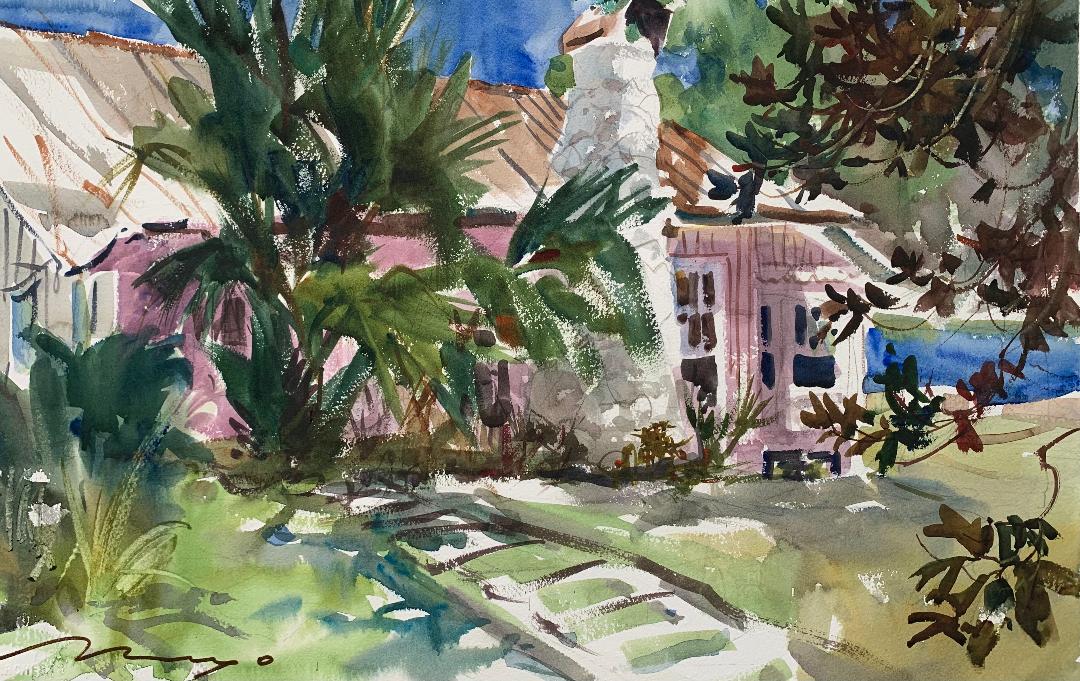 Published in 2000, she was featured in the National magazine Watercolor Magic as "Ones to Watch" and again in 2006 December issue in the same magazine in an article "Ten Artists to Watch". Mary O has won numerous awards with both her watercolor and oil works. Her most recent achievement is winning the Artists' Choice award for her painting at the Shadow on the Teche juried Plein Air Event in 2021.
Developing a love of painting en plein-air from the beginning of her career in watercolor as well as oil, she is always striving to develop and grow as an artist. She teaches workshops in both mediums. Each painting is a new challenge. The mix of each color and value to recreate a scene from life is the challenge. Conveying a moment of space and light with color and shape intrigues her with every painting. Mary O. engages the viewer with her suggestive and loose brush strokes and use of color and composition.
First living on the East Coast of South Georgia and now on the West Big Bend area of Florida lends itself to painting marine scenes. She is drawn to compositions of working boats whether in dry dock or on the water. Shrimp boats, old historic hulls and working boats are all subjects of her award winning paintings. Plein-air painting in a boat yard is one of her favorite genres. www.maryosmith.com
Useful info:
---
---
Interested to receive information about classes and workshops, subscribe to Natalia's emailing list.
MATERIALS LIST
---
I will demonstrate in the mornings and break for quick lunch and then students will paint in the afternoon until afternoon discussion time. If you have a photo of an outdoor scene put it in your gear for reference. Enlarge image to at least 8x10 in color.

BASIC THINGS YOU MIGHT NEED
---
SMALL SKETCH PAD (FOR SKETCHING AND TAKING NOTES)
PENCILS OR PEN
4-B PENCIL
KNEADED ERASER
ARTIST TAPE OR MASKING TAPE (PLEASE NOT BLUE)
CONTAINER FOR WATER
½ (16X23) OF WATER MEDIA GATOR BOARD (WHITE)
3 OR MORE SHEETS OF WATERCOLOR PAPER – ARCHES 140 LB COLD PRESS.
PALETTE – LIKE ANDERSON FOLDING PALETTE
EASEL- I USE A SOTEC BUT THOSE ARE EXPENSIVE. ANY FRENCH OR OUTDOOR EASEL WILL DO. WE PAINT UPRIGHT.
WATERCOLOR PIGMENTS- I USE MOSTLY WINSOR & NEWTON
---
PERM. ALIZARIN CRIMSON
BURNT SIENNA (HOLBEIN OR REMBRANDT ARE MY FAVORITE)
NEW GAMBOGE
CAD. YELLOW PALE
QUINACRIDONE GOLD
PERM. SAP GREEN
PERM. ROSE
FRENCH ULTRAMARINE BLUE
HOOKER'S GREEN
CERULEAN BLUE
COBALT BLUE
ANDREW'S TURQUOISE (AMERICAN JOURNEY- BY CHEAP JOE'S)
VERMILION HUE
WINSOR RED
IVORY BLACK
YELLOW OCRHE (on occasion)
---
WINSOR & NEWTON – SERIES 680 ONE-STOKE - NYLON WATERCOLOR
BRUSH – ¾" flat
RIGGER #6
#14 ROUND BRUSH –NLYON
1" muslin brush – (Cheap Joe's muslin brush in Cheap Joe's Order catalog. THIS BRUSH I USE ON EVERY WATERCOLOR.
---
YOU WILL MOST LIKELY USE 1/2 SHEET A DAY, POSSIBLY MORE.
A GOOD BUDGET IS ONE SHEET A DAY.
140 LB COLD PRESS – ARCHES
IT'S VERY IMPORTANT TO USE GOOD PAPER. I'M NOT FAMILIAR WITH OTHERS TO HELP WITH PROBLEMS THAT MIGHT ARISE FROM USING OTHER PAPER. FOR THE CLASS I WOULD NOT LIKE THE BLOCKS. PLEASE USE CLIPS OR TAPE TO WATER MEDIA GATOR BOARD.
GATOR BOARD, MUSLIN BRUSH AND SPECIALTY PIGMENTS CAN BE FOUND IN THE CHEAP JOE'S ART SUPPLY CATALOG ON LINE.