Portrait workshop in three color charcoal/chalk with Olena Babak, 2019
March 20-22, 2019 (11am-4:30pm)
Three day workshop focusing on fundamental concepts in portrait drawing: Shapes, values, edges, conceptual thinking, anatomy and design. Students will work on a single drawing for the duration of the workshop with a combination of individual critiques, exercises and instructor demonstrations.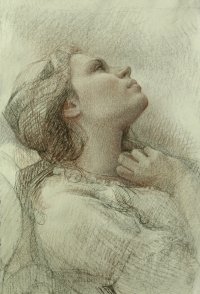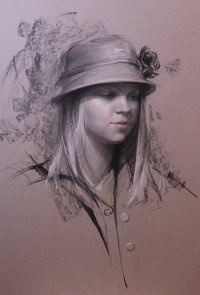 Olena Babak is an award-winning, classically trained artist, whose landscapes and figurative works can be found in galleries, public and private collections in the U.S. and abroad.
Some of her selected awards: Best Marine Cape Ann Plein Air, Artists Choice Plein Air Richmond, 1st place Quick Draw & People's Choice Award Finger Lakes Plein Air, Best Representation of Rockies National Park, 1st place Booth Bay Plein Air and others.
Her work has been featured in "Strokes of Genius" series, the "Poet's and Artist's: 100 Great Drawings," and the "Classicist" as well as "Plein Air Magazine".