---
Watercolor challenge
I'd like to put forward a challenge, let us share our watercolor journals! Practice you skills, show your works, and depict your visions and journeys in watercolor. See my works and post yours at our artists' social medial site https://www.oval.cc/web/timelines/tag/watercolor. Use hashtag #watercolor when you post. Your journals will give us something to talk about during the class.
---
---
Private sessions and consultation - online (Zoom) sessions.
If you are interested in improving your art skills, if you need a quick advice or would like to follow through with a formal educational course, or just need some honest critique I am open for online private or group sessions via zoom. The cost is $30 per 45 minute session. Please contact me for details. Email: nat2020@andreeva.com
Zoom link and further info will be sent to registered participants using e-mail provided at payment.
---
Classes at the DEGALLERY
Tuesday, October 27, 10:00 am - 11:30 am - Free online ZOOM Demo/lTalk: "Oil Painting"
Tuesday, November 3, 10:00 am - 11:30 am - Online ZOOM Workshop :"Oil Painting"
---
Three Day Workshop at the River's Edge Apalachicola
November 18, 19 an
d 20 - Still Life Alla Prima (1day watercolor, 2 day oil) and day 3 - Plein Air
3 full-day workshop 7hours/day (21 hour) $420 per student. Class is limited to 8 spaces to ensure we have plenty of space to social distance while working. To reserve your space deposit of $210 is required with balance due seven days before the start of class (November 10, 2020). Payment should be made to River's Edge Apalachicola, 59 Commerce St, Apalachicola, FL 32320 Phone 850-653-1031.
---
Workshops at my studio: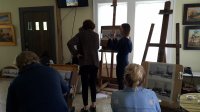 November 9 - 13, 2020, (Monday through Friday), 9:00am to 5:00pm - Find your Authentic Voice in Plein Air, with Carol L. Douglas
Friday, December 4, 2020, 4pm - Demo&Talk with Michelle Held for upcoming workshop. Sign up for free demo
Wednesday, January 6 to Friday, January 8, 2021, 10:00 am to 4:00pm - Beautiful Birds with Michelle Held