In the Yellow Chair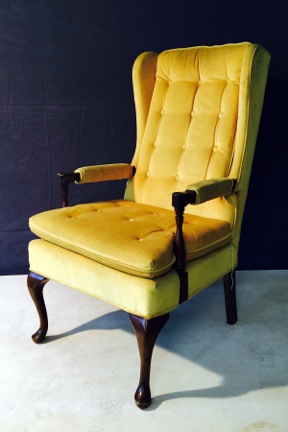 May 6 - 28, 2016 - "In the Yellow Chair", 621 Gallery, Tallahassee, FL
Opening reception :
First Friday, May 6, 6-9pm
May 26, 5-7pm - Art Happy Hour
May 28, 8-10pm - 621 Lounge Nite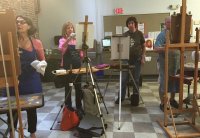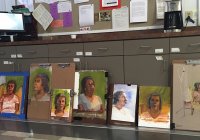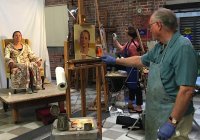 The Tallahassee Senior Center Portrait Lab is a community-based art program that began over 30 years ago. The weekly portrait sessions take place Monday mornings from 9am to noon. We meet in a large, airy studio equipped with a model platform, light stand, and the ever-present yellow arm chair. Our models, mostly patrons of the Senior Center, may sign up to pose weeks in advance, but are often recruited the morning of a session.
Our purpose is to improve our craft of drawing and painting portraits from life. These sessions provide the challenge of capturing a live model's likeness, personality and character within the three-hour period.
We choose to paint from life. Our models come with a willingness to be sit and be observed. What occurs is a sort of exchange, a shared time to record our concurrent existence. The portraits are largely executed in oil in the "Alla Prima" style, meaning they are completed "all at once," started and finished in one session. In addition to oil we work in a variety of mediums—pastel, ink, watercolor and pencil.
Our process is very collaborative. Every 20 minutes while the model takes a break, we are free to examine each other's work, or verbally share our process. This is where we bring our questions about proportion, color mixing, or a myriad of topics regarding materials and technique. We share ideas, answer questions, make suggestions, and offer mutual support and encouragement in our common quest of learning.
Our easels are arranged in a semi-circle around the modeling stand, which shifts our literal vantage point and alters the composition of light and shadow. By the end of the session there is a unique work at each station representing an individual's particular interpretation, perception and personal style.
It is in this collective but singular spirit that we offer this record of our shared humanity.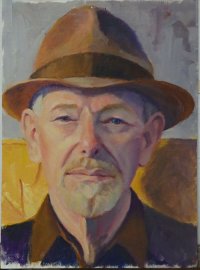 by Charles Pierce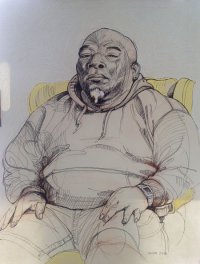 by Maria Balingit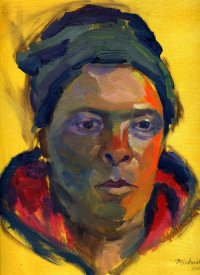 by Nancy Holland
About Participating Artists:
Natalia Andreeva
received her art education at the Novosibirsk State Pedagogical Institute. Natalia's paintings have been distinguished with honors and fellowships and are featured in multiple public and private collections, see www.andreeva.com
Maria Balingit
Maria Balingit studied art at FSU and now teaches for the Senior Center. Her two-person show "Human::surface" (with Ananda Balingit-LeFils) was exhibited at the Artport in 2014. She and her sister JoAnn Balingit are collaborating on a graphic memoir.
Jennifer Clinard
earned a Master's degree in Constructive Design and Art Education at FSU. Her work has been exhibited in our regional art centers and On the Waterfront Gallery, Apalachicola, FL, see www.jenniferclinard.com
David P. Gauldin
is self-taught. His grandmother was an artist, his mother attended the Ringling School of Art and Design, and his uncle was a woodcarver.
John Felton
has attended art schools around the nation and frequently exhibits his painting at LeMoyne Center, Tallahassee Senior Center and the Gadsden Art Center. John is also a master gilder.
Nancy Holland
earned a Master's degree in Apparel Design and Technology and taught in that field at FSU. She has exhibited her work at the FSU Strozier Library, Tallahassee Museum, Jefferson Arts Center, Tallahassee City Hall and Tallahassee Senior Center.
Nancy Lickson
has a Master's degree in interior design from FSU. Her paintings and collages have been exhibited in museums and galleries throughout the Houston area.
Kenneth Menke
is the president of the Tallahassee Watercolor Society. Ken has shown his watercolors and portraits in numerous regional exhibitions.
Charles Pierce
did advanced study at Chicago's AmericanAcademy of Art. Charles joined the Senior Center Portrait Group in 1985. For exhibits and commissions, see charlescarmanpierce.com
Dorothy Shearn
earned a BFA in photography and a Master's degree in Library Science at FSU. She has exhibited at the LeMoyne Center for Visual Arts, the Tallahassee Senior Center and the Leon County Main Library.